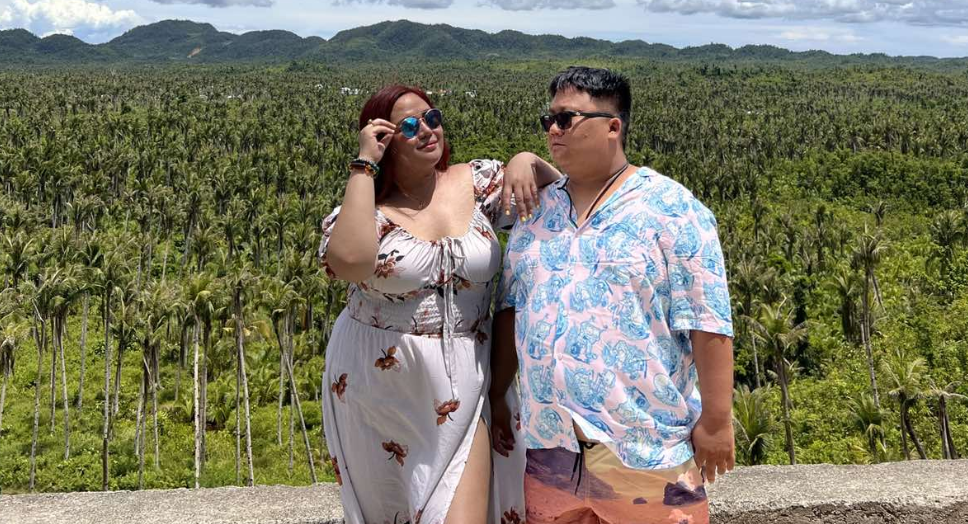 Filipino food hack maven, ulam content creator, and family bonding connoisseur Hazel Anonuevo, known to the public as HazelCheffy, is engaged!
The simple, heartwarming engagement was witnessed by friends and loved ones, then shared with her community as a video entitled 'Cooking Ina Mo Engaged Na!!!'
What started out as a birthday party for her now-fiance, Jerome Ledesma, ended with him bending the knee and popping the question. Of course, HazelCheffy's answer is "isang matamis na oo!" (a sweet 'yes!').
Hazel and Jerome met on Facebook back in 2013 — he was a culinary student, she was a private cook. Though a few years younger than she was, Hazel admittedly fell smitten for the guy. She agreed to only engage in a formal relationship after a year of courtship and 'pagpapapansin', per Hazel herself!
Since becoming a couple, Hazel shares that they have had their shares of ups and downs, fights, and even break-ups. No matter what, though, they still found themselves going back to each other every time. "Nag-break kami at nag-focus ako sa vlogging career ko. Na-hack yung Facebook page ko after a year at to the rescue naman si Jerome para magpapogi! After no'n, tuloy-tuloy na ang communication." The rest, of course, was history. Even with moments where she felt she wanted to move on to the next phase of the relationship but saw that he wasn't ready, Hazel and Jerome triumphed over it all.
And in true HazelCheffy fashion, she shares her tips not on the perfect kare-kare this time, but on what she believes is the recipe for a delicious marriage!
Dapat emotionally prepared ka! "Tanungin mo ang sarili mo kung siya ba talaga ang gusto mong makasama habang-buhay." (Ask yourself if this person is really the one you want to be with for life.) Hazel herself stated that loving someone is a choice to make every day, even when you can't stand your partner's face! As for her, she already knows the answer to her own question of whether she wants to spend her life with Jerome. "Parang kahit anong give up ko lalo na pag napapagod ako or inaatake ako ng toyo, parang hindi ko pa rin nakikita sarili ko na ibang lalake yung makakasama ko. SIYA AT SIYA PA RIN!" (No matter how much I want to give up, like when I'm tired or I'm just in the mood to fight, I still don't see myself being with any other guy. It's Jerome through and through!)
Dapat financially prepared kayo! "Ang pera, malaking aspeto yan para gumana din o umandar yang relasyon n'yo. Hindi kayo mabubuhay sa pagmamahal lang!" (Money is a big aspect to help your relationship work. You can't live off of love alone!) Speaking practically, Hazel also reminds those getting married that it doesn't matter how big or small the wedding ceremony is. What truly matters is the people who get to celebrate your union with you.
Dapat may trust! Speaking from experience, Hazel reminds that whatever history the couple has had or whatever pain was caused before should be forgotten and not brought up in the current relationship. Shed the excess baggage! "Pag kinasal kayo, iisa na kayo ng puso at ng isip. Hindi niyo na pwedeng isipin lang yung sarili niyo; kailangang i-coconsider ang isat-isa." (When you get married, you become one in heart and mind. You can't think of just yourself anymore. You have to be considerate of each other.)
Dapat may open communication! Hazel admits that she was once too open on social media, and now vows to scale back on what she shares publicly. Being open in her own relationship, however, is a non-negotiable. "Walang kimkiman! Hindi pwede yung one week kayong di mag kikibuan. Ayusin agad kahit mahirap! Ikalma yung sarili at pilitin ninyong maayos." (Don't keep mum. You can't just not talk to each other for a week. Fix it right away no matter how hard it is. Calm yourselves and find a way to fix things.) She jests, however: "actually hindi ko to dapat ina-advise eh, pero sisikapin kong matupad naming 'tong mga pinagsasasabi ko ngayon!" (Actually, I shouldn't be giving out this advice, but I'll do my best to apply in my life whatever I'm saying now!) Family-planning wise, Hazel and Jerome have openly communicated to wanting another member of the family — a Little Cooking Anak — but after Hazel's ectopic pregnancy, there's a lot to prepare!
Dapat may teamwork! "Hindi ka na mag-isa ngayon. Dalawa na kayo, huwag niyo hayaang may nakukubang isa sa pag-hahanap-buhay tapos 'yung isa walang ginagawa para sa pamilya ninyo, (You're no longer on your own. The two of you, don't allow one to bear the burden while the other does nothing for the family)" she reminds. "Ang asenso ng isa ay asenso ninyo pareho, at asenso ng lahat ng taong umaasa sa inyo! Sabay kayong aangat, walang maiiwan, (the achievement of one is the achievement of both, and for the benefit of all the people counting on you. You'll both rise up, no one gets left behind)."
Hazel and Jerome are slated to be married some time in June 2024. She notes that establishing their business is their current priority. As for wedding planning, she's extremely grateful at the sponsorships that have so far been offered. Though no plans are final, one thing is for sure: "Excited na akong mag-gown!" 
And her message to everyone that was in the same boat before she got engaged is this: "Para sa mga babae diyan na hanggang ngayon nga-nga pa rin at hindi alam kung kailan kayo papakasalan kahit ang tagal-tagal niyo na, wag kayong mawawalan ng pag-asa. Kung talagang mahal kayo ng partner niyo, kayo at kayo ang dadalhin sa altar niyan! Hindi kasi natin mapipilit ang mga lalake pag ayaw niya, ayaw pa talaga. Hintayin natin sila maging ready, sa tamang panahon GAGALAW ANG BASO!" (For the girls that are still waiting, unsure whether their significant others will marry them despite being in the relationship for a long time, don't lose hope! If they really love you, you're the only one they'll bring to the altar. We can't force the men, if they don't want it, they really won't want it yet. We can wait for them — at the right time 'gagalaw ang baso!')
Follow her on social media!
HazelCheffy on Facebook – https://www.facebook.com/hazelcheffy/
HazelCheffy on YouTube – https://www.youtube.com/c/HazelCheffy
HazelCheffy on Instagram – https://www.instagram.com/hazelcheffy/
HazelCheffy on Tiktok – https://www.tiktok.com/@hazelcheffy/