"Drop what you're doing and go buy from a local business!"
This line of thought isn't uncommon these days. As the months of COVID-19 and quarantine roll on, and the new normal slowly settles in to become the normal that we have to live with, more and more people are realizing the importance of supporting our kababayan, and the importance of buying local to help boost the economy.
This support comes with some form of benefit for the buyer, of course, so the benefits are always two-fold. Not only is it extremely convenient to have essential supplies, care packages, and goodies delivered right to your doorstep at the tap of a screen (sometimes arriving on the same day, hooray!); it's also monumental for the local, small business owners who are looking to survive and thrive day by day.
Small business owners that have virtually set up shop include everyday food items and pantry staples, fresh vegetables from provinces up north like Baguio, ever-important cleaning supplies, clothes and accessories, and even specialty gift-items that one can only find in certain parts of the country. These sellers are more than happy to have their products reach more people across the nation through cargo services operating amid transport restrictions such as Victory Liner's Drop & Go service, because it not only helps out their business but helps out their customers and every middleman in between, such as the drivers and couriers that bring the goods from door to door. These services become more essential for business owners so they can reach their customers just like always.
A year of being bridged by Victory
Take Joscar Eusebio for example: this candle factory line worker-turned-businessman took a chance and started his shoe-selling-and-supply business with his sister in 2019. His enterprise, White Sack, has been his main source of income and his source of joy, helping him not only pay the bills amid the pandemic, but also enabling him to help aspiring business-owners to start their own little shoe-selling business within their locality thanks to Drop & Go's extensive delivery network. "Laking tulong po ng cargo service sa business namin, lalo na po sa mga suki naming taga-probinsya sa Norte (The cargo services is a big help for our business, especially for our loyal customers from the provinces in the North)," says Eusebio. Victory Liner now has a wide operating range of pick-up and drop-off points across North Luzon in Baguio City, Alaminos City, Dagupan City, Lingayen, Sison, Dau, Mabalacat, San Fernando City, Tarlac City, Naga City in Camarines Sur, Legazpi City in Albay, Masbate, Virac, Tuguegarao, Roxas, Ilagan, La Union, including all terminals in Metro Manila, and many more.
It wasn't always roses for Joscar, though. At the start of the pandemic when virtually no vehicles were allowed out on the road, the budding new entrepreneur also had his share of doubt and fear. Without buses plying their usual routes, he was unable to make deliveries for a few weeks, and when asked what his biggest challenge during that time was, he shares, "yung umasa sa ayuda" (to rely on amelioration).
Independent, business-minded, and thoroughly hands-on and hardworking, Joscar knew that he had to find a way to operate again. With the help of his family, he started marketing his products online, and just in time, cargo services started to open back up. "Nakabawi na ulit kami simula nung bumalik na yung bus shipping ng Victory (we were able to get back on track as soon as the bus shipping of Victory started again)," he shares, indeed feeling victorious when his business's dispatches started back up. He also shared that the service's affordable rates starting at just P85, easy, safe, and efficient packaging and handling, and same-day delivery enables him to run his business with ease in spite of the imposed quarantine and temporary set-backs. It was like business as usual, delivering his goods just as he had done within the year before the pandemic.
Bringing products and goods from one point to another has always been Victory Liner's core business. In the beginning, the company's founder and patriarch worked hard to deliver fruits and vegetables to people. Now going back to its roots VLI's Drop & Go, launched in 2018, has proved to be more crucial than ever for the people working from home.
Bridging more than just goods
As an entrepreneur that is bound to face many more setbacks, Joscar looks to his family for inspiration. "The pandemic had a very big impact on my personal well-being, as well as my business. The business I ran with my sister temporarily stopped, but our family inspired us to carry on. This business helps them too," he says.
And in this regard, Joscar also looks to bus companies like Victory Liner to help connect with them and to, ultimately, bring him home. "My family stays in Tarlac, so I usually take the Alaminos-Bolinao bus to visit them weekly." He even shares that he has kept every single ticket from his land travels, dating all the way back from 2011.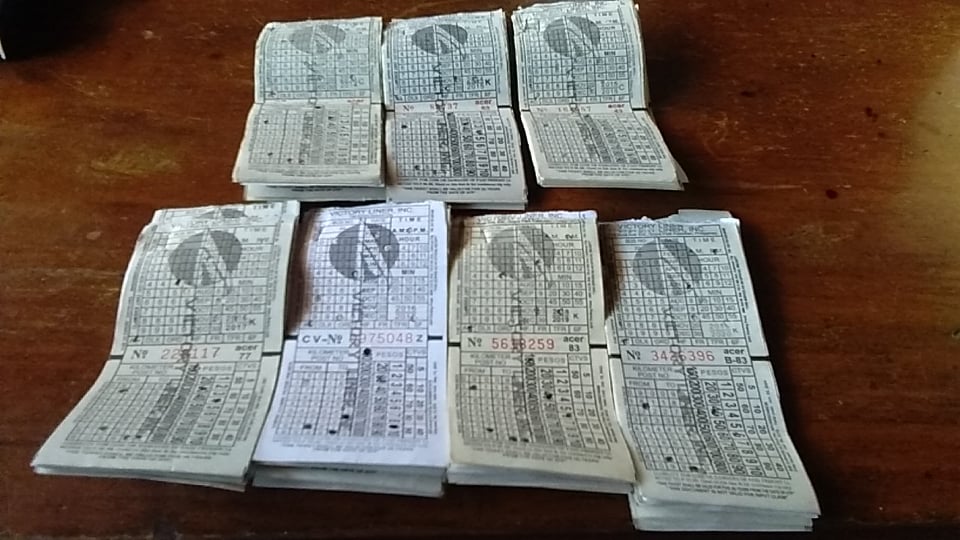 With limited routes, Victory Liner is now able to bridge the gaps between families who were caught in different places at the start of the pandemic. Some routes within certain cities are now open for operation, such as those within Zambales and Pampanga.
But with the ongoing pandemic and the uncertainty that comes with it, Joscar understands that these may still change, and that any time, he may have to give up a visit or two if only to keep those he loves the most, safe. In the meantime, he knows he can provide for them best as long as his business runs and as long as he has a reliable partner to help him deliver. "Paano kami makakapagpadala ng parcels kung walang byahe? Napakahalaga ng transportation (how can we send out parcels if there is no travel? Transportation is very important)," Joscar emphasizes. "Nandiyan yung mga cargo service tulad ng Drop & Go nung nagsimula yung business ko, and maaasahan ko pa din hanggang ngayon, (Victory Liner's Drop & Go was there when my business started, and it is still here with us today)."
"Para sa ekonomiya namin," he adds with a smile.
Simple, satisfactory, and secure shipping
For entrepreneurs and loyal riders like Joscar, in the same way that Victory Liner has kept him safe during his travels for decades, he also entrusts his sacks and parcels of shoe deliveries with the company's cargo service, knowing that it will also arrive safe and secure to its destination. "The cargo service makes me feel confident that my items arrive safe, and that our clients receive their items faster. They also feel that it is safer for them to receive items through this service. Sila kasi yung pumupunta sa terminal kung kailan okay para sa kanila (they are the ones going to the terminal in their own free time)."
In this time of pandemic, Victory Liner employs stricter safety and health protocols in all its terminals, ensuring to disinfect appropriately, to conduct regular temperature checks and contact tracing, and to observe best hygiene practices before and after coming into contact with parcels and deliveries. Victory Liner staff are also asked to wear face masks, face shields, and gloves most especially when they are communicating with the customers.
People who wish to send packages may visit Victory Liner terminals, and sending packages will be as easy as filling out the freight form, weighing their cargo, and paying the freight fee. Senders will then receive real-time notifications via SMS, notifying them of whether their parcel has been dispatched, delivered, and whether it has arrived at the destination terminal. Here, sellers can then notify their clients of the status of their goods as well. This works best for perishable goods, too!
And as people look forward to the day when everything can go back to the normal that once was – if that day ever comes – it is through the strength that we receive from other people like our families, our customers and loyal clients, and even through the bridges created by ever-dependable cargo services, that help see us through and help us thrive every day.
"I think someday we will be in a much safer and healthier environment," says Joscar finally. "I believe that God is watching over us, and I will keep myself inspired to do more good through this business. I know that there will be people and services to help me out with that."