The emergence of plantitos and plantitas—urbanites who enjoy growing plants inside their houses or at the backyard—is an encouraging development amid the coronavirus pandemic. People quarantining at home continue to face constraints in sourcing food while also needing to engage in activities for physical and mental wellbeing. Out of this difficult situation sprouted a collective interest in urban gardening on social media, possibly growing into a movement with a sustainable influence on the future of food production.
"One of the key takeaways from the current COVID-19 crisis is the considerable impact of community action, whether it's positive or negative," says Grace Dionisio, sustainability manager of ARC Refreshments Corporation which is the licensed manufacturer and distributor of RC Cola products. To foster positive engagement and unity within communities, the company launched the long-term advocacy program "Grow as One" campaign as a way to demonstrate ARC's resiliency in the new normal. Under the initiative is "My Gulay Garden" that encourages consumers to reuse their recyclable RC Cola PET (polyethylene terephthalate) bottles as plant pots for fruits, vegetables, and herbs in the safety of their residential spaces.
Modern food production has become so detached from the city dwellers' daily reality, with profound consequences to the health of the population and the country's agricultural sector. People nowadays, especially urbanites, have little to no interest in how food is actually produced. But with tools and the proper know-how, the current inclination toward gardening for food, along with an enthusiasm to cook and bake at home, can be very empowering and could give a lasting boost to urban farming.
Homegrown
"We recognize that since a long time ago, more so during this pandemic, our country needs to secure its food. This is why we have committed to be part of the solution," says Dionisio. Besides implementing product/packaging improvements and company-wide sustainability policies, the beverage group was already engaging different sectors, especially in communities where its manufacturing plants are located. "We want to inspire people to act collectively and toward better outcomes through activities like tree planting or coastal cleanups, collaborating with indigenous peoples, helping daycare centers in indigent barangays, and now this new project, urban micro-farming."
"'My Gulay Garden' is close to the hearts of ARC people," according to Human Resources Lead Dothy Bungay, "because the employees themselves spearheaded it. Now they seek to encourage others in their gardening and sustainability efforts." The management of ARC supports this employee-led project, which is why it has conducted digital trainings about waste composting and vegetable gardening using recycled PET bottles. The green initiative has since been expanded to include all its manufacturing plants in the Philippines.
"Before this program, I wasn't really into gardening. I didn't think I'd be good at it, plus there's really not much space for a 'full garden' in our house," said Mark Verallo, Trade Marketing Specialist. Since working from home, he developed a passion in container gardening via the ARC project, and so far he has started growing vegetables like eggplant and pechay. "Maybe it's not about being born with a green thumb but about developing a passion for it. It also opened me up to urgent global concerns like environmental awareness and food security, even self-sufficiency. I'm still a beginner but it's just very satisfying to be able to do this with my social network, with families and friends who can learn along with me."
Cultivating a Green Future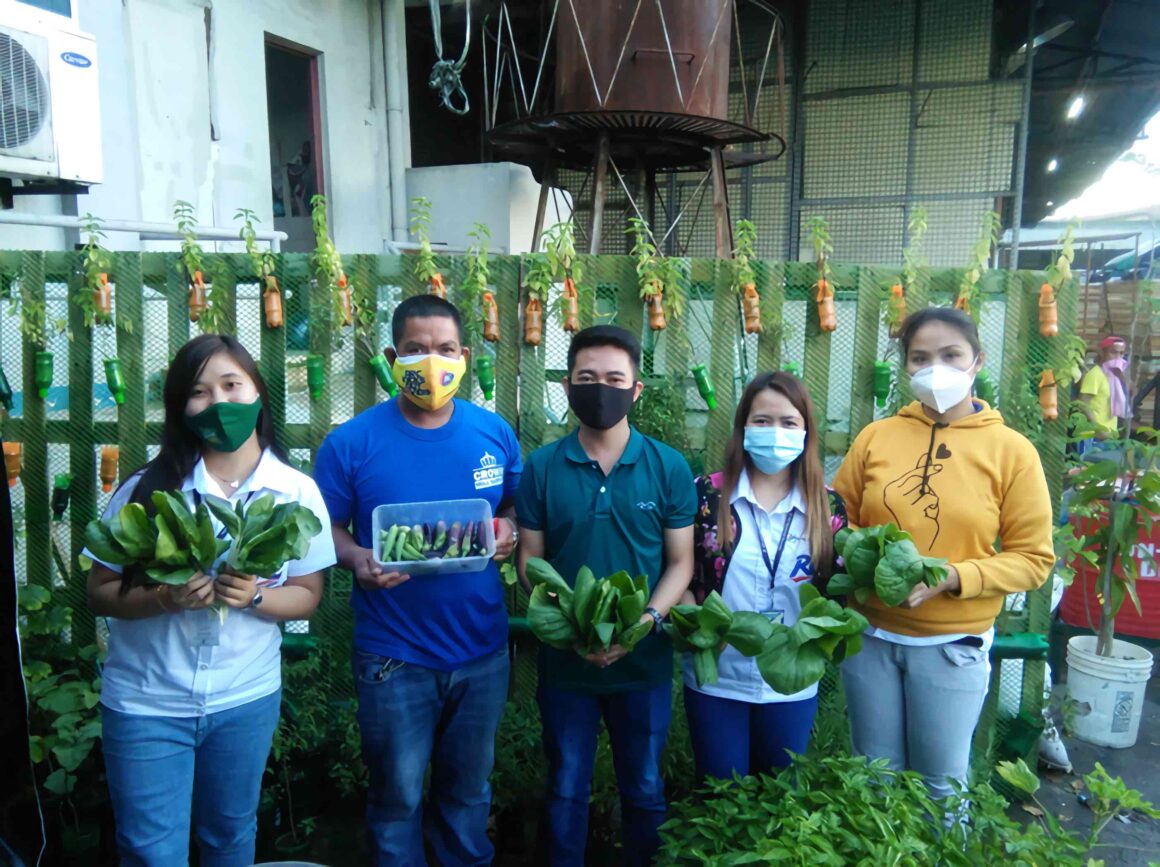 Even before the pandemic, there was already a clamor for healthier, greener spaces among urbanites weary of cramped housing, heavy traffic, and pollution in megacities. The United Nations reported in 2018 that over half the world's population or 4.2 billion live in urban areas, and the numbers will continue to rise to 68% by 2050. In Asia, a staggering 54% of the world's population is urban
In the Philippines, major cities have become vulnerable to the pandemic, and individuals and families have been staying at home for months because of localized lockdowns. In this context, the idea of vegetable gardening in the city can be uplifting. Another employee, (name and position), explains, "In a way it's like a throwback to simpler times when people collaborated with each other and with nature itself. If this is the future of urban areas, then I'm honored to be part of this program and to share it with others."
Sustainably meeting health needs by growing one's own food may appear to be a long distance away but micro-farming represents a decisive step to greener cities. "When people learn farming through experience and realize what they can accomplish, it can give them the confidence to make better choices, lobby local leaders and companies, galvanize others, and generally help create a culture that respects and appreciates grassroots food production. We want to contribute to that future," says Dionisio.
__________
ARC Refreshments Corporation is the manufacturer of RC Cola which has been dubbed "RC ng Bayan" for being the Filipinos' preferred cola drink for every occasion. Juicy Lemon, Seetrus, Fruit Soda Orange, Arcy's Rootbeer, and Rite 'N Lite are the other brands of the company equally known for their crisp, well-balanced, and satisfying flavors.
---