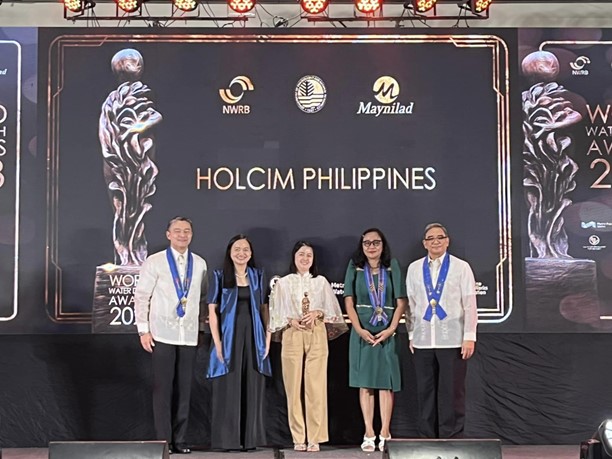 For driving water efficiency and management programs that preserve this resource for host communities and the environment, leading building solutions provider Holcim Philippines was recognized by the National Water Resources Board (NWRB) during the World Water Day Awards PH 2023.
Holcim Philippines was given the Water Wise Award for successfully reducing freshwater withdrawals in its operations by 64 percent since 2018 through efficiency initiatives that lessen consumption and safeguard the water resources of host communities. Holcim was among 21 individuals and organizations recognized for water stewardship during the annual event organized by the Department of Environment and Natural Resources (DENR), the National Water Resources Board (NWRB), and Maynilad Water Services, Inc.
Holcim Philippines President and CEO Horia Adrian: "Preserving natural resources is an important element of our sustainability strategy, and water is one of those we are focused on conserving for future generations. We are committed to reducing water consumption in our operations and embedding more recycling in business to have a more positive impact on the environment."
The company's better performance was driven by improvements to its water recycling facilities to cool equipment, installation of rainwater harvesting structures, and digitalization of monitoring and control tools for greater efficiency. Aside from lowering the company's freshwater withdrawals, these initiatives generated Php 35 million in savings in 2022.
Holcim Philippines' improvements were led by its plant in Norzagaray, Bulacan, which accounts for half of its water withdrawals. Improvements are continuing with plans to scale up water harvesting facilities across its sites, including the installation of a solar-powered pump in Bulacan and the digitalization of monitoring and control equipment.
These initiatives are part of Holcim Philippines' program to significantly reduce freshwater withdrawal in producing cement and contribute to communities' water needs by 2030. The company set this as a sustainability target in recognition of the country's challenges in water access, which impacts the health and wellness of communities.
Holcim Philippines is implementing a water replenishment program focused on watershed protection and restoration, productive use, and access and sanitation. Strategic partnerships with communities and local government units in water-risk areas have been established to allow the company to serve their local needs and maximize watershed improvement. To support this, Holcim Philippines follows robust policies and standards aimed at protecting and conserving water resources.