Aboitiz Land partnered with international luxury brand Jewelmer to kick off the Sunkissed: Seafront Residences Summerfest 2023 with a weekend celebration of seaside living. The event, entitled Heirlooms in Fruition, showcased exquisite, fine, and lustrous cultured South Sea pearls from Jewelmer, an esteemed jewelry brand. 
"Seafront Summerfest is an annual celebration of seaside living. We at Aboitiz Land feel that it's time to celebrate bigger than ever which is why Seafront Summerfest will run from March until June as the sun welcomes everyone back to our shores," said Mags Maguad-Tibayan, Aboitiz Land Marketing and Branding Senior Manager. "Seafront Residences was envisioned to become a peaceful, tight-knit beach community, where special memories can be made and where properties are like pieces of art that can be passed down for generations to come. Today, this vibrant community has come to life like an heirloom in fruition much like the beautiful jewels you see here today."
Attendees went for a tour of Seafront Residences. As they walked around, admiring the stunning coastline and the beautifully designed Budji+Royal houses facing diamond parks, they were thrilled to see a display of Jewelmer's luxurious collections. As they enjoyed the view, they were serenaded by the melodious strains of Aliw Awards' Best Instrumentalist, violinist Merjohn Lagaya. His music added to the serene and peaceful atmosphere of the community. The guests gathered to listen to a pearl talk by Miss Tess Catedral, Jewelmer's Assistant Vice President of Retail Sales. She spoke about the rarity and value of the South Sea pearls and explained how Jewelmer creates exquisite jewelry that can be cherished for generations. Pearl farming is a sustainable industry dependent on the health and quality of the environment. As the pearl is a living and organic gem, every change in the environment is recorded on its surface. Pearl farmers make it their mission to leave their environment in a better state than when they first got there. This commitment to sustainability makes the South Sea pearl a national gem.
Quality investment for the next generation
Heirloom jewelry and real estate both hold significant value as long-term investments. Like real estate, heirloom jewelry is a tangible asset that can appreciate in value over time and be passed down through generations.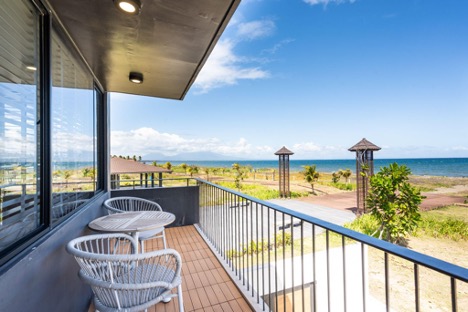 As heirloom jewelry's value is affected by the rarity and quality of materials used, and the craftsmanship and history behind each piece, in real estate, location, construction quality, and market trends all play a role in the potential for property appreciation. Emotional attachment and nostalgia also make both investments valuable beyond their monetary worth — worth a legacy to pass down to future generations.
Why choose Seafront Residences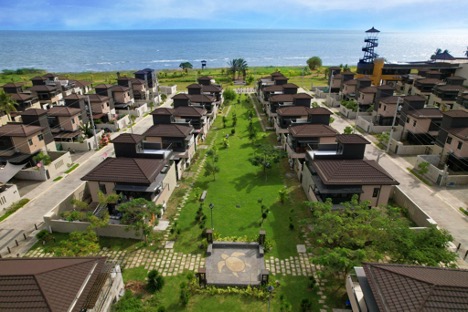 Seafront Residences is a premier residential community that offers a range of options, including houses and lots, residential lots, and condominiums called villas.The development has become popular among upwardly mobile millennial couples and individuals that are looking to invest in a seaside property, as it provides beachfront access, a peaceful environment, and an active healthy lifestyle. The community also offers a range of amenities, including a Budji+Royal-designed clubhouse, magnificent pools with jacuzzi, and an iconic parola.
The development is within a smooth two-and-a-half hour drive from Metro Manila and is accessible through major highways and has won several awards for its world-class amenities, premium housing and innovative, sustainable construction technology. Seafront Residences won Best Housing Development in the Philippines during the 2021 Philippines Property Awards by PropertyGuru, Best Premium House of the Year in Luzon in The Outlook: Philippine Real Estate Awards 2022 and FIABCI 2023 Silver Award in Environmental Category.
Moreover, the sense of community and supportive atmosphere make Seafront Residences an ideal place to create a legacy and pass down something of value to future generations. With its picturesque location, premium amenities, and commitment to sustainable living, Seafront Residences is a wise heirloom investment that can provide financial and emotional rewards for years.
The next big event is on April 15 for Beach Volleyball Republic Recharged, a men's and women's beach volleyball tournament will be held. Bea Tan, founder of Beach Volleyball Republic, will also offer a free volleyball clinic for children. The tournament will feature top players from well-known professional and collegiate teams such as Pia Ildefonso, AJ Pareja, Henry Pecaña and Roma Doromal.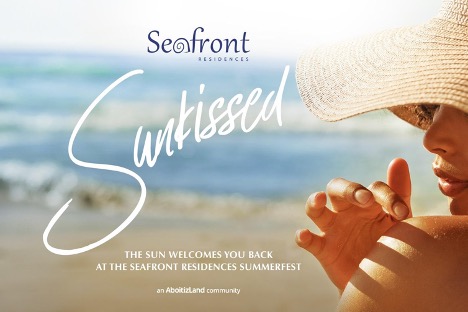 For more information, visit facebook.com/seafrontresidences or instagram.com/seafrontresidencesph. To be part of the festivities, register here: bit.ly/SeafrontSummerfest2023