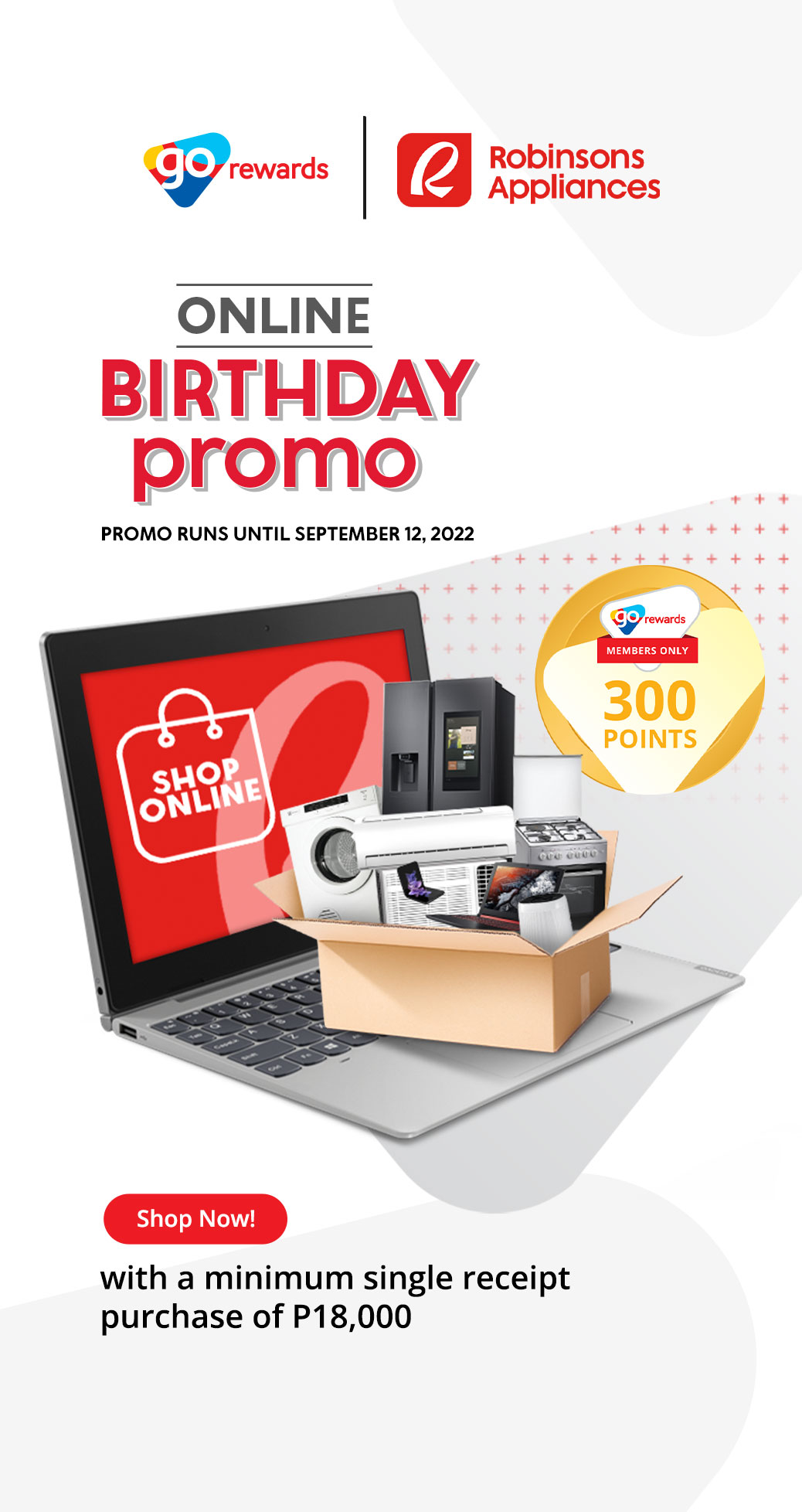 No one celebrates birthdays like Filipinos. If you've ever celebrated a Filipino birthday, you know that it can be an extraordinary experience. From the lumpia, to forcing the kids to perform, from the karaoke and laughter to the tears and hugs, there is nothing quite like celebrating Filipino style.
Have you ever noticed that the celebrant is always the one providing the 'blowout' amongst loved ones? That's because when Filipinos have birthdays, it is our time to shine, so we do everything we can to make sure everyone else has a great time! We go all out when it comes to planning parties for those special days because we want everyone – from celebrant to guest – to remember the special day with fond memories.
So in true Filipino party style, for www.robinsonsappliances.com.ph 2nd Birthday, EVERYONE is invited…
And YOU Get the Gift!
Robinsons Go Rewards members exclusively get an additional 300 points on top of the points they're going to already earn from their purchases in www.robinsonsappliances.com.ph, with a minimum of PHP18,000. But wait, there's more! Robinsons Appliances wants everyone to join the party, so from August 12 to September 12, 2022, shop on the Robinson's Appliances website and receive a FREE Go Rewards card – no extra fees, we promise!
Below are just some of the gifts you can get from your Go Rewards points, including more information on www.robinsonsappliances.com.ph 2nd Birthday Bash.
1. Gas from Caltex
We know how economically painful it is to get a full-tank of fuel these days. It's expensive (even with the prices going down a smidge) but we have no choice but to push through. The bills need to get paid, y'know?
So for this birthday bash, you can enjoy the perks of having a Go Rewards card for discounted fuel! For 1 Go Rewards Point, you get a 1.00 PHP discount per liter of Caltex fuel. You can rest easy with fuel prices, thanks to Go Rewards!
2. Clothing and decor items from Robinsons Department Store
Online shopping is the best type of retail therapy. And you can do more of that while buying chic and functional clothing and home items from the Robinsons Department Store.
You can conveniently use your phone to shop from their website with your Go Rewards points, or claim the points in-house at any Robinson's mall. See? Just the thought of discounts already has your energy spiked!
3. Reward flights booked with Cebu Pacific Air or Cebgo
We know you missed traveling after 2 years in isolation. Since several Asian countries and places around the Philippines are opening up, it's high time to book that flight via Cebu Pacific Air or Cebgo and enjoy the benefits that come with being a Go Rewards member.
Trust us, traveling has never been this easy with Go Rewards!
4. Grocery items from Robinsons Supermarket, Rustan's Marketplace, Shopwise
One thing we learned from the past 2 years is that food is essential. So getting your weekly or monthly supply of groceries is crucial to your survival during the work-from-home or hybrid set-up. We also learned that dealing with inflation is a challenge, so any type of discount is a heaven-sent.
Thanks to being a Go Rewards member, you can avail different discounts from Robinson affiliate establishments like Robinsons Supermarket, Rustan's Marketplace, and Shopwise!
5. Medical Supplies from South Star Drugs, Rose Pharmacy
Health is wealth, that is why it's important to stock up on vitamins and medicine at home. You never know when you're going to need a Paracetamol for your headache or an Antihistamine for your allergies.
With your Go Rewards points, you can score discounts from different medical supplies. Imagine getting quality yet affordable items at South Star Drugs or Rose Pharmacy, thanks to Go Rewards.
6. Home Essentials from Truevalue, Daiso and Handyman
We don't know about you but we are really into decorating our home with home essentials. It's hard for us to enter establishments like Truevalue, Daiso or Handyman and come out empty-handed.
It's a good thing that Go Rewards exists because everyone will get the opportunity to continuously enjoy the advantages of being a member, including availing discounts!
Again, an additional 300 Go Rewards points will be given to existing members with a minimum purchase of PHP18,000.00 at Robinsons Appliances. It's 'raining' promos on www.robinsonsappliances.com.ph 2nd Birthday Bash so get it until September 12, 2022!