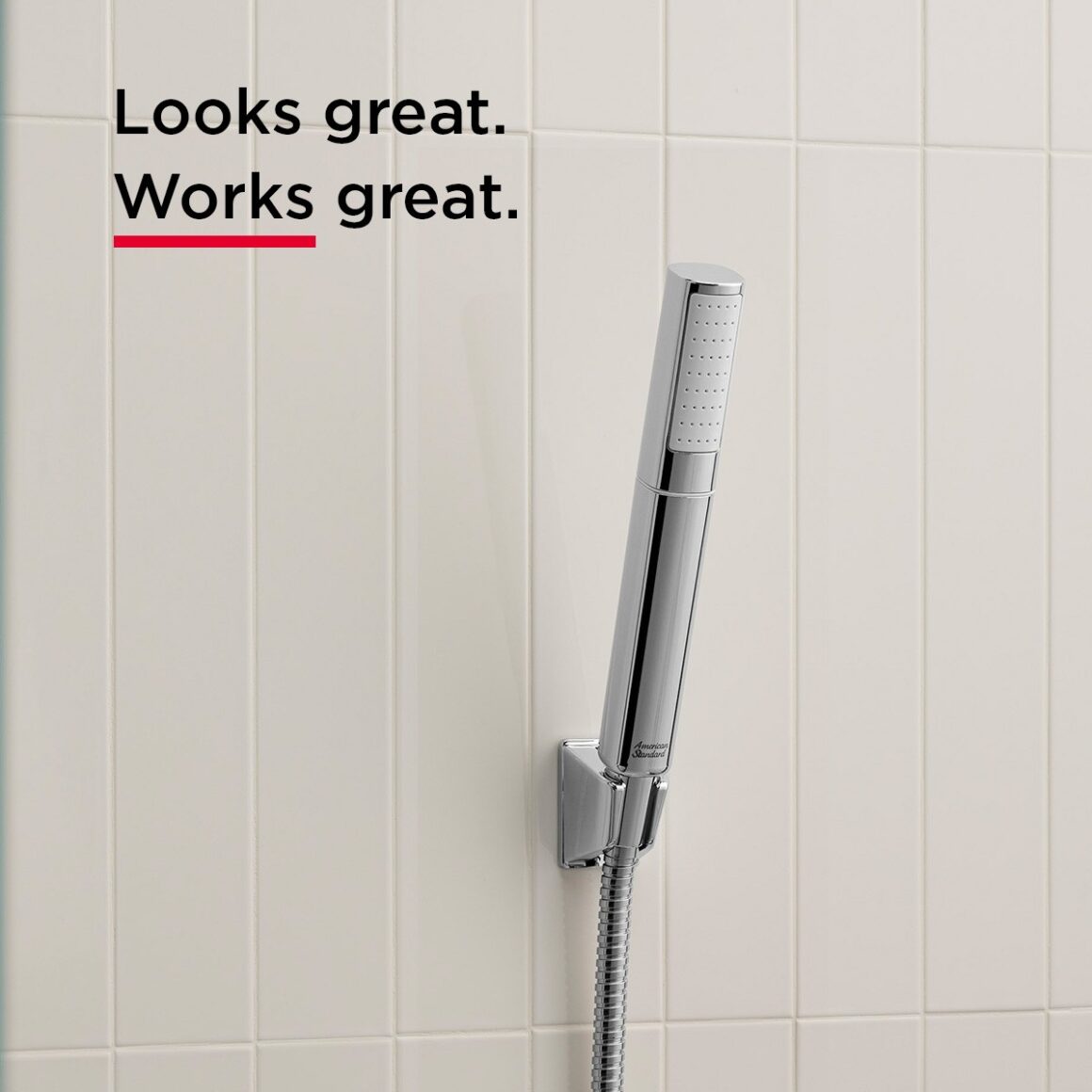 The bathroom is the ideal space where we can retreat to rejuvenate and relax our senses; this is even more possible when it fosters a clean and uncluttered environment. Now, this is achievable with American Standard's Duostixtm Hand Shower.
Space-saving, Dual Purpose Hand Shower
Fashioned in a sleek, stick design with PressurePLUSTM technology, the DuoSTiXTM Hand Shower by American StandardTM is equipped for both body cleansing and bathroom cleaning functions. Its dual-purpose function not only provides an invigorating cleanse, but also doubles up as an effective bathroom cleaning tool, and provides a practical solution to reduce clutter in smaller-sized bathrooms. The key is in its removable cap – leave the cap on for an invigorating shower that you deserve; and for cleaning the shower area, simply twist the cap off for a strong, direct Jet Spray that will blast stains head-on, or fill a cleaning pail up in double-quick time.
A conventional hand shower requires the user to hold it upright and at an angle in the area that needs cleaning. Compare that to the DuoSTiXTM Hand Shower, where its stick design allows users to clean the bathroom in a more natural and ergonomic manner by simply pointing it at the area to be cleaned.
While the water pressure from a conventional hand shower may be adequate for showering, it may be insufficient to reach and clean extended areas outside of the shower. The DuoSTiXTM Hand Shower features a strong and focused Jet Spray which makes it easier to target hard-to-reach corners and clean areas that are further away from the shower zone. Cleaning an entire bathroom is no longer a chore. With the DuoSTiXTMHand Shower, you can keep your entire bathroom clean even as you shower!
No More Low Water Pressure Woes
Often experienced in some Asia Pacific countries due to old, poorly maintained water infrastructure or from the use of instant water heaters, low water pressure can greatly compromise the efficiency and quality of a shower. Weak water pressure showers take longer to complete and worse, leave one feeling inadequately cleansed.
The DuoSTiXTM Hand Shower with PressurePLUSTM technology provides for an invigorating shower experience, even at low water pressure. Designed with a tapered internal water channel and developed with pressure-boosting and water-saving technologies, the DuoSTiXTM Hand Shower meets local regulatory water savings requirements and is compatible with instant heaters, delivering an efficient yet comfortable shower without the low water pressure issues commonly associated with the use of instant water heaters.
True Hygiene with EasyClean Design
Ever wondered about what's lurking inside your hand shower? Few of us would think to clean the insides of our hand showers, considering that most hand showers are not designed with shower head interiors that are cleanable.
With EasyCleanTM – a design innovation that allows you to clean inside the shower head of the DuoSTiXTMHand Shower, you can look forward to a clean shower every time. Simply twist the cap to remove any slime or mineral deposits that may have built up within. With just a wipe or a quick rinse, you are assured of cleaner water, better hygiene, and total peace of mind with every shower.
FlexiMatchTM Finishes For Any Bathroom Style
The DuoSTiXTM Hand Shower comes in a chrome body with two different finishes on the shower head to match any bathroom style. Select a Glossy White Shower Head that will easily blend into any bathroom or pick the Matte Black Shower Head for an edgier touch. The DuoSTiXTM Hand Shower is also available on its own as a hand shower or as a complete set with a hand shower, hose, and holder. Save yourself precious bathroom space and time with the dual-purpose hand shower that performs even at low water pressure. The DuoSTiXTM Hand Shower delivers the optimal spray and power pressure for both your body cleansing and bathroom cleaning needs.